Who are the top 10 richest people in the world? Here is a list of the 10 richest people in the world for 2021.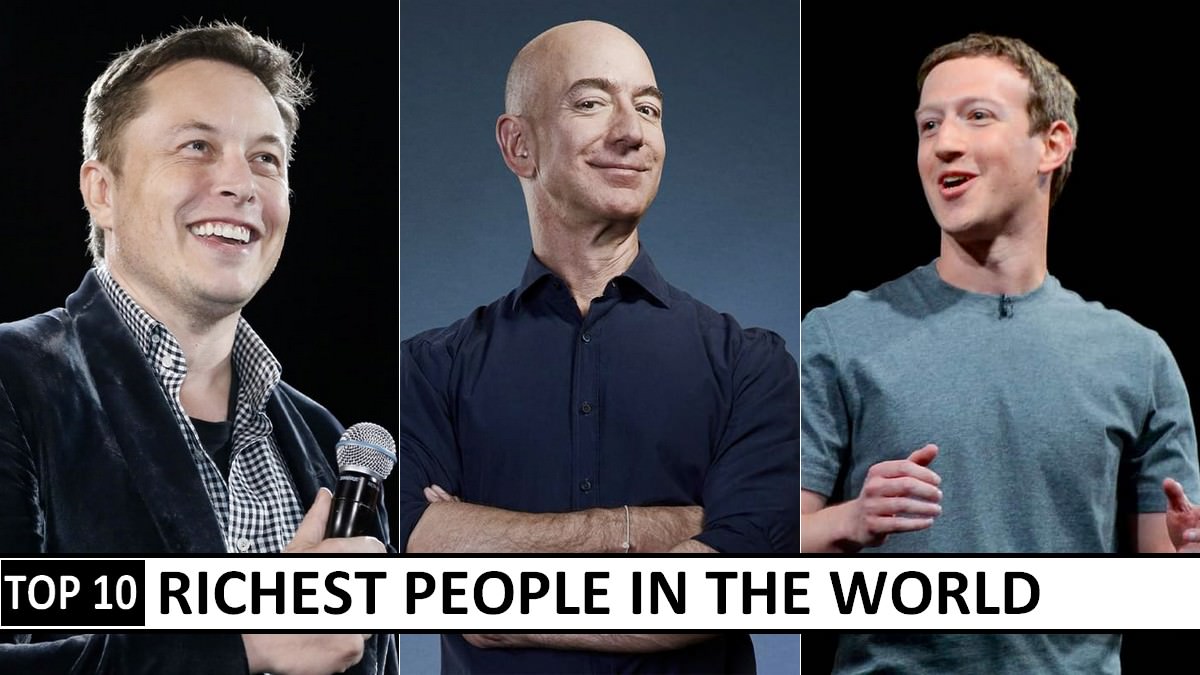 Top 10 richest people in the world 2021:
1. Bernard Arnault & Family – $186.3 billion
The number 1 position of richest people in the world has been very unstable for the past few months. In march 2020, Bernard Arnault had a net worth of $76 Billion and in May 2021 his net worth reached $186.3 Billion with a rise of $110 Billion in just 14 months. It all made possible due to pandemic and his luxury group LVMH (Louis Vuitton Moët Hennessy). LVMH group and Bernard Arnault represent the remarkable rise of Europe's fashion houses and luxury during the lockdown.


2. Jeff Bezos- $186 Billion
Jeff Bezos is the only billionaire who has maintained the no.1 position for 3 continuous years. But in 2021 the situation is changing continuously even though he has managed to always make his position in the Top 3. Jeff Bezos has a net worth of around $186 Billion just $300 million less than Bernard Arnault. One of the most successful companies is Amazon that he started in a Garage. Pandemic has benefited Jeff Bezos a lot as more and more people started shopping online. Now he's at second position in the list of richest people in the world 2021.
3. Elon Musk- $147.3 Billion








I don't think there is a need to explain him because he is the most revolutionary person of the century. Elon musk is making hard attempts to change the future of both Space travel and the future of travelling on earth. Elon musk's Tesla car company has become the world's most valuable car company of $320 billion. Space X market value is around $100 billion. Elon Musk's company "The Boring Company" is making tunnels inside roads to reduce traffic and make travelling faster. Elon Musk net worth is around $147.3 Billion.
4. Bill Gates – $125.5 Billion
Bill Gates is the co-founder of Bill & Melinda Gates Foundation. Reports say that Bill Gates has a net worth of $125.5 billion. Bill Gates founded Microsoft with Pual Allen and earned a lot but Bill Gates sold most of his Microsoft shares and now owns only 1% of the shares. He invested all his money in many different sources and as a result he has seen a spike in his income. In April 2020 Bill Gates entered the $100 billion club when the software giant Microsoft share price surged post-earnings. According to reports of 2020 and 2021 "The Bill & Melinda Gates Foundation" has become the world's largest private charitable foundation.
5. Mark Zuckerberg – $114.7 billion
The founder of Facebook and the owner of Instagram, WhatsApp and many more world famous Mark Zuckerberg holds the fifth position with a net worth of $114.7 Billion. Mark Zuckerberg is the king of social media and he owns 15% ownership in Facebook after the firm went public. Mark Zuckerberg has also won the mark of youngest billionaire. One of the main reasons for the growth of Mark Zuckerberg net worth is Instagram Reels because after the ban of TikTok Instagram started its own reels and attracted users towards it worldwide.










6. Warren Buffett – $108.7 billion
Warren Buffett is 90 years old and has a net worth of around $108.7 Billion. Buffet is also known as "Oracle of Omaha" and the King of Share Price. Warren Buffet's company Berkshire Hathaway has the highest share price in the market. Berkshire Hathaway per share price is around $4,300 and its reason is Warren Buffet. Warren Buffet bought his first share at the age of 11. Warren Buffet has earned most of his net worth through Share Market and his best friend is Bill Gates, the 4th richest man in the world. If anyone in any corner of the world than he will definitely include Warren Buffet in his talk as the King of the share market.
7. Larry Ellison – $102.3 billion
Larry Ellison is the co-founder of the software firm 'Oracle' which he started in 1977. He has earned major of his net worth from this firm and he has a net worth of $102.3 billion. Larry Ellison quit as the CEO of Oracle in 2014 and currently works as the chief technical advisor and chairman of the board of the company. In 2018 he bought 3 million shares of Tesla and as the Tesla share price goes high then his net worth also goes high. Some reports say that Larry Ellison owns nearly all of Hawaiian island Lanai.










8. Larry Page – $100.2 billion
Larry Page was one of the co-founder of Google with Sergey Brin since 1988. And has a net worth of $100.2 Billion. Larry stepped down as the CEO of Alphabet in 2019 with is the parent company of Google. He was the CEO of Google till 2001 and after that the CEO of Alphabet from 2011-2015. Larry Page is the founding investor in the space exploration company "Planetary Resources" and he is also investing in the "flying car" startups Kitty Hawk and Opener and probably he will earn a profit.
9. Sergey Brin – $89 billion
Sergey Brin is the partner of Larry Page and founded Google with Larry. Google has made many billionaires and is still making. Google is such a big company that even Elon Musk says that he is afraid of Google and Jeff Bezos said that Google is a mountain that we can never climb. Sergey Brin is also the co-founder of Alphabet and the CEO of The since 2015.
10. Amancio Ortega – $89 billion
Amancio Ortega is noted as the richest person in Europe. And he is the owner of the most valuable Zara Fashion Chain. Amancio Ortega owns around 60% stakes in the Inditex company that has 8 brands like the popular "Massimo Dutti" and Pull & Bear, and runs a total of more than 7,500 stores around the world. His net worth is $89 billion according to the latest reports.