YouTube has evolved the way of sharing video content and today YouTube is the world's biggest and easiest video sharing platform. YouTube has made people rich and even millionaires. Many YouTubers earn thousands of dollars from YouTube every month but YouTube is not the only income source of these YouTubers. Below we have listed some of the YouTube millionaires that had set up their million dollars businesses with the help of YouTube.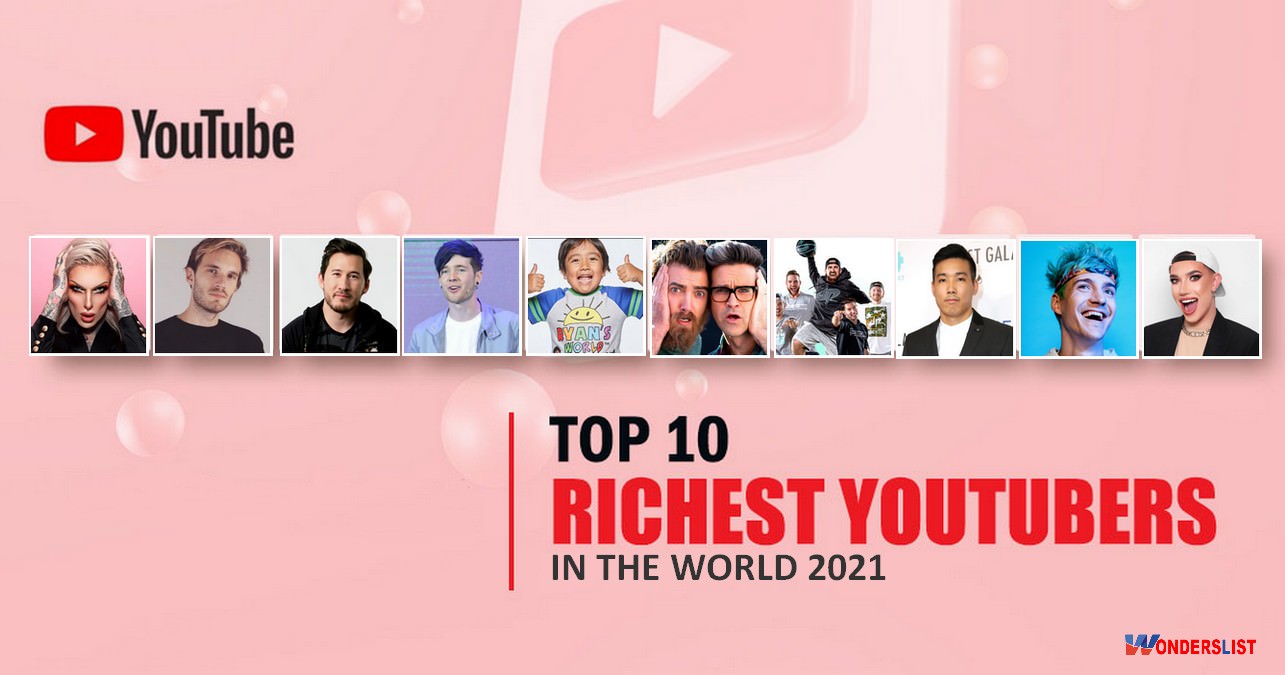 The 10 richest youtubers in the world 2021:
10. James Charles
Net Worth: $25 Million




YouTube Subscribers: 25.2 Million
Total Views on YouTube Channel: 3.3 Billion views
James Charles started his YouTube channel in 2015 where he started posting makeup and beauty tutorials. He is graduated from his high school in 2017 from United States. James journey was not so easy because he was bullied, informed and was advised go pushed through it. James was a local makeup and beauty artist in New York so he decided to open his YouTube channel and earn some handsome amount of money but he earned thousands. In 2016, he became the first male ambassador of CoverGirl from the popularity of his YouTube channel. James earned most of his subscribers in 2019 and in 2019 his net worth was around $19 Million.
9. Ninja (Tyler Blevins)
Net Worth: $25 Million
YouTube Subscribers: 24.2 Million
Total Views: 2.4 Billion views


Ninja is one of the YouTuber that never went the college route and is just a high school graduated student. He instead focused on his profession that he loved to do and that is gaming. He has played for Renegades, Clouds, Luminosity Gaming and Team Liquid. Beside streaming Halo 3 he has also streamed PUBG, H1Z1 and Fortnite Battle Royale on the live streaming platform Twitch. Ninja had also made records of most live viewers with 635,000 and 667,000 live viewers in his live stream. In 2018, Ninja had only 2 million followers and still he made around $10 million in 2018. Ninja told in an interview that he made more than $500,000 in a single month only streaming Fortnite. In 2018, Ninja made one more record of 100 million views in a single month on his channel.
8. Vanoss Gaming (Evan Fong)
Net Worth: $25 Million
YouTube Subscribers: 25.5 Million
Total Views: 13.7 Billion views








VanossGaming channel was started back in 2011 by Evan Fong after studying economics in college and VanossGaming is a music producer, DJ and Game Commentator. VanossGaming journey was not so easy because his parents were very concerned for him when he started giving more focus on his YouTube channel leaving all other stuff. After day-night hard work and producing high quality content VanossGaming reached over 10 million subscribers in 2015.
VanossGaming released their first album "In Pieces" back in October 2019. For the YouTube Premium Series "Paranormal Action Squad" 'Evan Fong' worked as the voice actor of the series.
7. DUDE PERFECT
Net Worth: $30 Million
YOUTUBE Subscribers: 56.3 Million
Total Views: 12.8 Billion views
Dude Perfect is a trick shot and stunts performing YouTube channel started by a group of 5 college roommates and all of them studied at Texas and A&M. They all studied at Texas A&M. The 5 group members of Dude Perfect are Cory and Cody Jones, Coby Cotton, Tyler Toney, and Garrett Hilbert. DUDE also has good natured gaming and also competes against each other in contests.
DUDE Perfect was started in 2009 and after hard work their videos got viral and a good reach. They first shoot a trick shot video at Tyler Toney's ranch and the second at Sky ranch, a Christian Summer Camp. DUDE Perfect got over 18 million views on their sky ranch video and they sponsor a child from Compassion International for every 100,000 views they get. As their popularity increased many brands and channels started collaborating with them. Some are ESPN, NBA, Nascar, NFL, Volleyball and Tennis. DUDE Perfect earned around $23 million only in 2020.
6. Rhett & Link (Rhett McLaughlin and Charles Lincoln "Link" Neal III)
Net Worth: $32 Million Combined
YouTube Subscribers: 27.9 Million
Total Views: 9.2 Billion views






Rhett and Link met each other in the 1st grade in North Carolina in an elementary school. They both made a documentary about their meeting and named it "Looking For Ms. Locklear". They also got the name of their famous YouTube channel "Good Mythical Morning" from a weird incident when they were caught writing swear words on their tables and they got this name. Rhett And Link followed each other as roommates at North Carolina State University. Besides their study they also made videos and Comedic Sketches for an organisation called cru, I don't know about it but they tell. Today they both together run 5 YouTube channels and in 2020 they earned a revenue of $20 million.
5. Ryan's World (Ryan Kaji)
Net Worth: $32 Million
YouTube Subscribers: 45 Million
Total Views: 61.3 Billion views
Ryan's World channel started on YouTube in 2015 and Ryan's family worked very hard to grow this YouTube channel. They also changed their surname from Guan to Kajin. Ryan's mom even quit her job to give extreme focus to grow this YouTube channel. Ryan earned $29 million in 2020 and pandemic worked well for growing his channel. They currently run 9 different YouTube channels and all these channels cover toy reviews, Ryan participating in various competitions and challenges and DIY science experiences. Ryan's world has a branded cloth and toys line and launched it on Walmart and grossed over $250 million in a single year in 2020. Ryan also donates a lot of toys, cloth and all stuff to charity most of the time in their review videos.






Net Worth: $35 Million
YouTube Subscribers: 29.3 Million
Total Views: 18.5 Billion views
Earlier in 2009 DanTDM played two games, Pokemon and Counter-Strike: Global Offensive under PokemanDanlv45. After that he started his main channel TheDiamondMinecart in 2012 and it was mainly focused on playing Minecraft and this channel gained popularity from starting.
He didn't turn back from other games and continued playing other games.
He set a Guinness World Record for the most views in a Minecraft Dedicated Video channel. In 2016, Daniel changed the name of the channel as "DanTDM" and we all are fans of it and he wrote one book or best-seller book in the same year called Trayaurus and The Enchanted Crystal.
3. Markiplier (Mark Fischbach)
Net Worth: $35 Million
2020 Earnings: $19.5 Million
YouTube Subscribers: 28.8 Million
Total Views: 15.4 Billion views
This pandemic has been good also for some like Markiplier who earned over $19.5 Million only in 2020.
Markiplier joined YouTube in 2012 and started his YouTube journey by doing off-sketch comedy in which he displayed and played every character in the sketch. In 2014, Markiplier moved to Los Angeles and put all his attention on "Let's Play Videos". He made a video, breakthrough playthrough of Five Nights at Freddy's and this got over 80 million views.
In 2018, Markiplier Channel had 20 million subscribers and they started a new channel named Unus Annus with Ethan Nestor and they decided to make a video a day for a whole year and after the year is finished they delete the channel and all of its content. Unus Annus with Ethan Nestor channel got more than 11 million views in their first week and at the end of 2020 they came live with more than 1.5 million viewers with a record.
2. PewDiePie (Felix Kjellberg)
Net Worth: $52 Million
YouTube Subscribers: 110 Million
Total Views: 27 Billion views








According to me gaming is the most profitable niche on YouTube and most of the YouTube millionaires are made from gaming. One of the YouTube gaming millionaires is PewDiePiE for his commentary on video games. He started his gaming channel in 2010 while playing action and horror video games. PewDiePiE became famous in his early starring weeks. Because there was no big gaming channel at that time.
PewDiePiE graduated from high school in 2008 and dropped out of college in 2011. PewDiePiE could become famous earlier but his parents didn't agree with his ideas and his journey became tough. Also, PewDiePiE is the most subscribed individual run YouTube channel.
1. Jeffree Star
Net Worth: $200 Million
YouTube Subscribers: 16.5 Million
Total Views: 2.4 Billion views
Jeffree was a make-up artist and spent most of her time in modelling and make-up jobs. Jeffree was the part of MySpace. And Jeffrey had one of the largest followings and received thousands of comments on her life, fame and beauty blogs. Jeffree uploaded first video on YouTube in 2009 with a motive to promote her music career.
In 2014, Jeffree was bankrupted and was losing his music career and he used all his life savings to start Jeffree Star Cosmetics and now he uses his YouTube channel to promote his brand and his company cross a revenue of $100 million every year.